Thank you for taking interest in my work. The images on this website are available as fine photographic prints suitable for framing, and can be purchased in a variety of sizes.
Just click the

button above the picture to add it to your cart.
Prints are without mats or frames and will be priced accordingly:
5"x7" - $15
8.5"x11" $35
11"x14" $65
13"x19" $85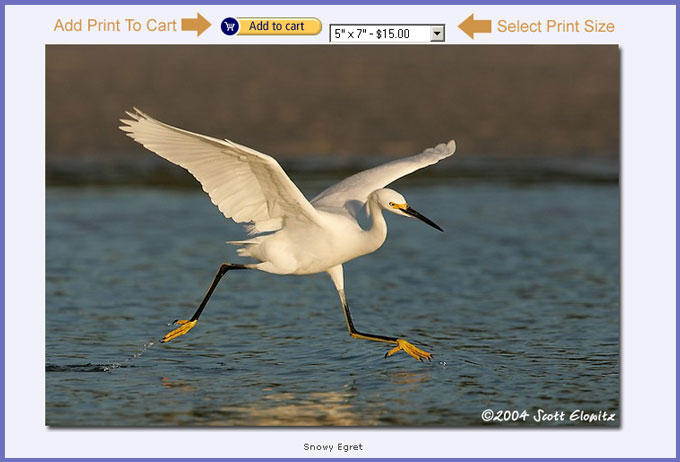 File size reduction for rapid viewing on the internet may affect quality and exact color. These high quality prints are hand produced by using digital files and printed by Scott using a high quality inkjet printer and signed.
Please note that what you have seen here is only a small sampling of what is in my portfolio. Please email me regarding a species that you are interested in but haven't seen it here on the site.
Shipping is $6.95 for 5"x7" and 8.5"x11" $12.95 for 11"x14" and 13"x19" you will only be charged 1 shipping charge regardless of quantity.
Payment by Visa, Mastercard, or PayPal accepted.



Please allow 2 weeks to produce your photographs.
Feel free to contact me regarding stock images or to ask about our Web License for use of images on your own website
Satisfaction Guaranteed
I would like to ensure your complete satisfaction. If for any reason you are not satisfied with a photograph, you may return it within 30 days for a full refund (less applicable shipping charges).